Professional Ethics and Character – Who a Lawyer is and How a lawyer behaves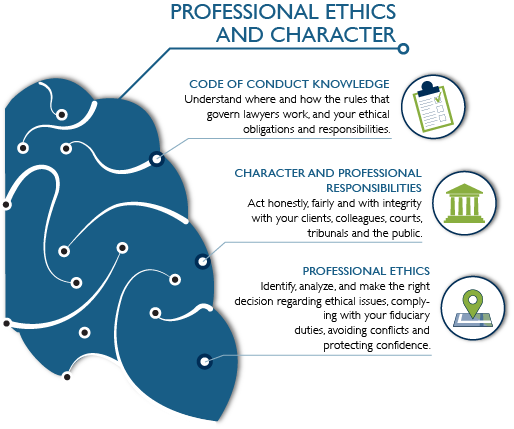 Legal practice is about much more than knowing the law – it is also about acting to preserve the critical role of justice in our society. Earning the trust of your clients, colleagues and the public requires a life-long commitment to ethics, integrity, and fairness in all that you do.
CPLED's Competency Framework prepares students by going beyond the ethical obligations outlined in the code of conduct to understanding the qualities and characteristics lawyers must embody to ensure that decision making is guided by ethics and integrity.
3.1 Code of conduct knowledge – Understand where and how the rules that govern lawyers work, and your ethical obligations and responsibilities.
Demonstrates the ability to identify and can discuss the ethical obligations and responsibilities of a lawyer.
Demonstrates the ability to identify and cites provisions of the Legal Profession Act and codes of the applicable law society (Rules and Code of Conduct (Alberta), Code of Professional Conduct (Saskatchewan), Code of Professional Conduct (Manitoba), Professional Code of Conduct (Nova Scotia)
3.2 Character and professional responsibilities – Act honestly, fairly and with integrity with your clients, colleagues, courts, tribunals and the public.
3.3 Professional ethics – Identify, analyse and make the right decision regarding ethical issues, complying with your fiduciary duties, avoiding conflicts and protecting confidence.