To be called to the Bar, students require more than knowledge of the law; candidates must display multiple competencies and qualities that take a holistic look at the key elements needed to successfully practice law in Canada.
New lawyers need to have the communication skills and understanding of how to practice law, and the empathy, compassion, integrity, respect, ethical practice and commitment to diversity to serve the public and their clients effectively.
CPLED has developed a Competency Framework to help guide students, facilitators, assessors and communicate to other stakeholders what specific skills and abilities the Practice Readiness Education Program (PREP) will help recent law school graduates develop over their articling period.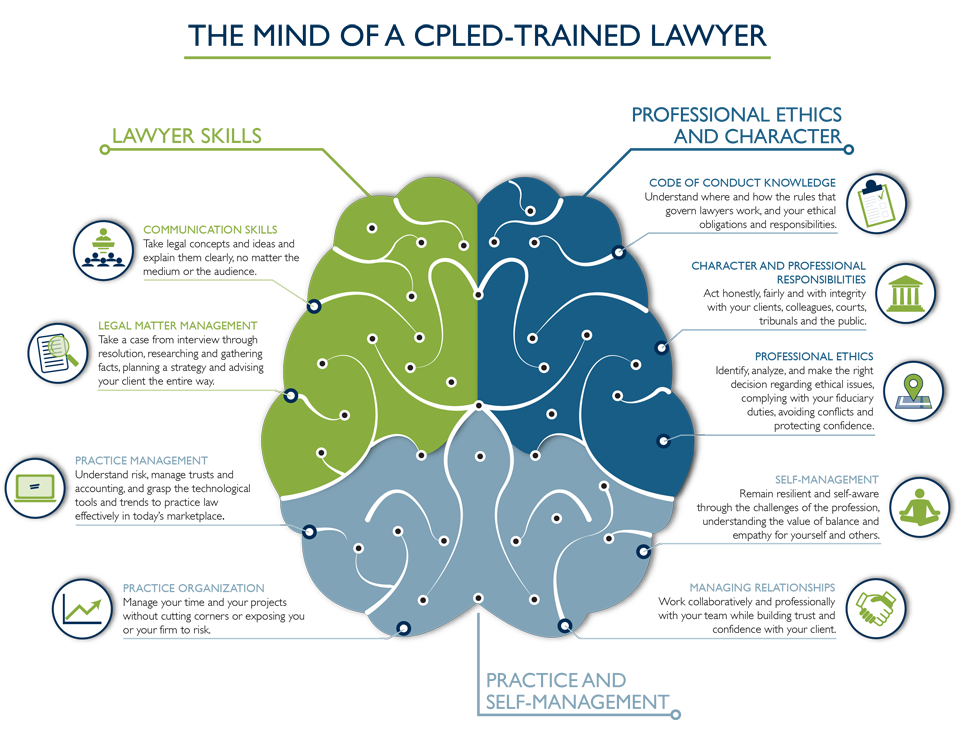 With the latest teaching and assessment tools, the PREP uses a combination of in-person and online learning. CPLED's competency framework is consists of three key categories:
Communication – Language, cross-cultural communication, oral and written communication and drafting/legal writing skills
Legal matter management – taking a legal matter from initiation, planning, research, analysis and resolution.
Risk management
Trust accounting
Technology skills
Time/project management
Conflict management
Relationship management
Self-management
Knowledge of the Code of Conduct
Decision-making regarding ethical issues
Complying with fiduciary duties and professional conduct
Protecting confidences
Avoiding conflicts of interest
Professional development
Ethical, courteous and honest
Non-discriminatory, principled and respectable
Honest, trustworthy and honourable
For more information on CPLED, PREP and how to register.